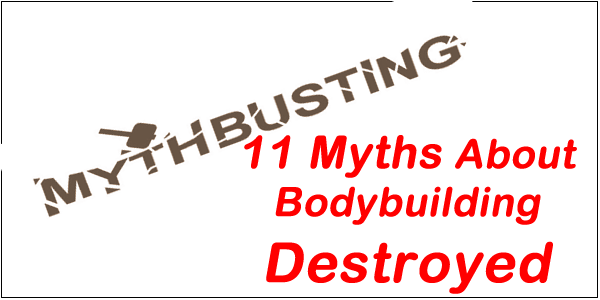 Myths infiltrate every area of life and bodybuilding is no different. Here we will destroy 11 commonly held myths about bodybuilding and fitness that many have believed for a long time.
High scale weight means you are fat. Honestly this is so false it isn't even funny. Muscle weighs more than fat. When you train hard you gain muscle. You will eventually weigh more but your clothes will fit better. MYTH DESTROYED!
It isn't possible to build muscle with veggies. In order to grow, muscles need three types of stimulus–consistent weight training, calories and nutrients to support growth and recovery. Veggies have slow-digesting carbs, vitamins and minerals in them. Along with some lean protein, veggies are a major component towards building muscle. MYTH DESTROYED!
Fruit has no place in a bodybuilder's diet. Fruit, when eaten first thing in the morning, is actually very important to a bodybuilder's diet. It helps to revive the metabolism after a night of sleep. It gives you the energy needed to complete your workouts. MYTH DESTROYED!
Women tone while men build. Men and women both build muscle the exact same way. Every single person secretes growth hormones when training with weights. Muscle is important for staying lean. It actually helps by burning fat. Women generally want to be leaner than men which is why they claim to only want to tone. MYTH DESTROYED!
If you take a long break your muscle will turn to fat. Building muscle requires sufficient stimulus to the muscles to cause them to grow. If you stop that stimulus your muscles will atrophy. What then happens is that your appetite remains the same so you eat more food, but are lacking the muscle to burn the fat. It isn't muscle turning to fat, it is you getting fat from eating too much. MYTH DESTROYED!
Salt is bad for you. You need salt to be healthy. When you are low on sodium your body holds on to it. You wind up getting bloated. Instead, give your body enough salt and eventually it will get good at letting it go. MYTH DESTROYED!
You cannot be in great shape all year long. This is also false. If you eat properly all year you will stay lean all year. The key is that you won't be in contest ready shape, but you will be pretty darned close. MYTH DESTROYED!
Carbs are bad. If you want muscle growth you will need to take in some carbs. Carbs fuel the intense workouts we go through. MYTH DESTROYED!
Training with weights turns women into men. If women aren't supposed to have muscles, why do we have them? The definition of "manly" differs from one individual to another, but we all have a different body structure. Some women have more feminine lines, others more androgynous. Wide hip bones and narrow shoulders are typical female shapes, but that doesn't mean an athletic woman is less feminine. Our society forms our ideals; you choose what you find attractive. MYTH DESTROYED!
To lose fat you must avoid fat at all costs. Fat is necessary to maintain a healthy level of hormones and to aid in our use of vitamins. Leave fat out of your diet and your hopes of being lean and muscular go with it. MYTH DESTROYED!
Cheat meals are the same as refeeds. A refeed is a strategic meal aimed at replenishing things in your body. A cheat meal is more psychological, but has some physical benefits as well. MYTH DESTROYED!
Related Posts: