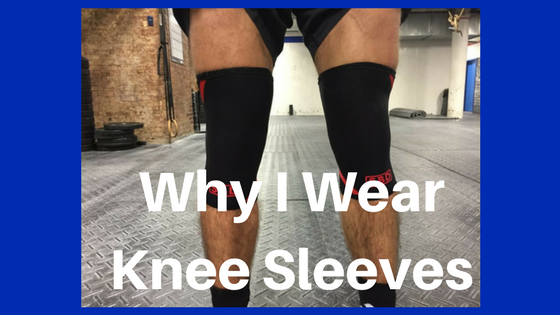 Knee sleeves may be just the thing for you if you enjoy squatting heavy weight. I remember when I first realized my need for knee sleeves. I was in the gym and had gone back to squatting heavy weight. When I was done I felt a tenderness in the soft tissue of my knee. I babied it a bit and took time off from squatting. When I returned to squatting the tenderness returned. I thought my days of heavy lifting were over. Then I purchased a pair of knee sleeves.
Knee sleeves vs. knee braces
To be completely clear, knee sleeves are not the same thing as knee braces. A knee sleeve provides some support to the knees, but does not function in the same way a knee brace would. Knee braces are designed and used to protect you from a previous injury and further endangerment. Knee sleeves are designed to protect the knee from future injury or risk of damage. This protection is especially important for knees put under great daily pressure (running, jumping, weightlifting).
Knee sleeves also add a valuable compression element that increases blood flow and reduces pain, not only during but also after performance. The reason this compression aspect is so important is that a compressed knee encourages blood flow through the blood vessels of the knee. Here is how I would draw it up on a chalkboard: compression + blood flow = better recovery. Simply put, using a knee sleeve results in less pain and swelling during and after performance. This is obviously the desired result.
Knee sleeves are generally made from neoprene material and slide on over the knee. In simple terms, the idea behind the knee sleeve is to reduce pain. More specifically, the sleeve adds warmth, limits patella movement, and can increase proprioception (the capacity to feel the position of a joint in space as sensed by the central nervous system). In other words, the sleeve is more than a mechanical support mechanism for the joint, but is also used to improve proprioception.
There is a key difference to understand between knee braces and knee sleeves. The protective cushioning of the knee brace is meant to protect the anterior knee and patella, while the knee sleeve does not provide the same ligamentous support. Therefore, if you have an unstable knee and are using a knee sleeve to fix or stabilize the knee, it will not be enough. Visit your doctor or orthopedic surgeon and look into the matter further. In fact, there is a great chance the swelling caused by the sleeve might be aggravating to an unstable knee due to its restriction of lymphatic and venous return below the knee.
Knee sleeves and me
I bought a pair of knee sleeves. This was difficult to do as most companies sell them as a single unit. I wear both knee sleeves when doing leg day at the gym. I do not want to risk damage to the joint and I have never had a knee injury previously. That made me the perfect candidate for knee sleeves.
Knee sleeves results
I received immediate relief when wearing the knee sleeves. The tenderness that would occur after heavy squats went away completely. The warmth in my joints was amazing. I could feel the increased blood flow and loved the change in the tenderness. Now I can squat confidently with the knowledge that my knees are both protected.
Related Posts: