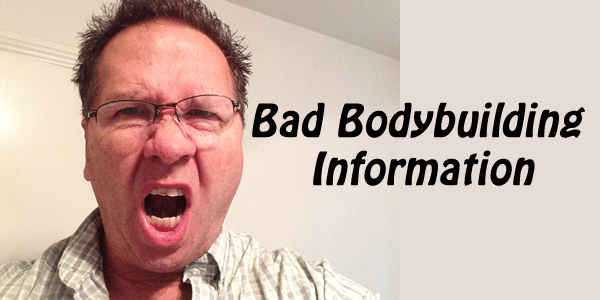 Bad information is so prevalent in the bodybuilding and fitness industry. Sometimes it is quite obvious while other times it is not. The following 3 points are aimed at teaching you how to avoid bad information.
Bad Information Disguised as Expertise
Many times an expert will use their reputation to put out a money making idea. Often they don't take care to insure that it is not bad information. People flock to their site and buy because of their name. They disguise the bad information as expertise. Always take the time to compare the information you are given with previous teachings by the expert. Use your brain. Don't be duped into buying things just because someone "big" is behind it. That is simply a recipe for disaster.
Bad Information Disguised as Innovation
At times people present their ideas as innovative. I've seen things like the popcorn diet or the all fruit diet that make some fantastic claims. The do so based on the fact that their idea is "innovative" yet they fail to show you any scientific evidence to support what they are presenting. Just because something hasn't been presented before doesn't make it innovative. Be careful with new ideas. Bodybuilders have been doing their thing for many years and the approach really hasn't changed much.
Bad Information Disguised as Minor Modifications
Many times an old idea will get a remodel. This is one I carefully scrutinize because I know the old system well and what it can and can't do. I analyze what the new changes are and how they would help or hurt the old system. I conduct my own experiments. That's the key. Check things out to see if they really do work. Bad information will hide behind many things, but if you keep your eyes open you will be able to vet it and not be fooled.
Related Posts: