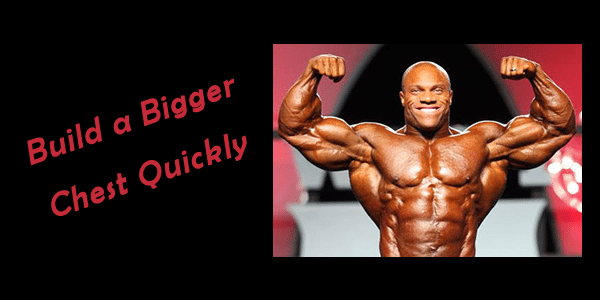 Who doesn't want a bigger chest? Well, ladies, even you do, but that's not what I am referring to. Anyone who hits a gym on a Monday int he United States will know that everyone wants a bigger chest. Monday's are National Chest Day in most gyms in America.
Bigger Chest by Hitting the Angles
As with any other body part, the varying angles you use will help you get a bigger chest. Most chest exercises have a flat, incline and decline method you can use. Try to incorporate all of them. Use the tools that you have available to you.
Bigger Chest by Squeezing Hard
The best tip I ever got was to squeeze on every repetition. When using a barbell to do bench presses squeeze your hands together while gripping the bar. The hands won't move, but the pecs will contract hard. My chest muscles really respond to this type of stimulus. Remember, everything in the gym is about concentration and focus. The best way to feel the muscle is to feel it squeezing, so do it. Give it a good hard squeeze on every single repetition.
Exercises for a Bigger Chest
There are many great exercises for building a bigger chest. Here I list some of the more popular ones.
Barbell Bench Press. The idea here is to push yourself hard. Squeeze the muscle on every single repetition and make sure you really fatigue the muscle.
Incline Dumbbell Press. The dumbbells give you a greater range of motion. The incline will hit the upper part of your chest. Get a good squeeze on every single repetition. Do not let your elbows drop below your shoulders as you perform each rep.
Flat Dumbbell Fly. This exercise will really hone your mind muscle connection. You will truly feel your chest muscles on this one. Squeeze hard each rep.
Pec Dec Fly. This exercise uses a machine. It should enable you to push a great deal of weight and get an amazing squeeze on each repetition. Simply hold for 2 seconds in the middle and then slowly bring the weight back. Keep this one controlled at all times and you will see some great results.
Cable Crossover. This one uses the cable rack. The motion is like hugging a tree. Get a good squeeze in the middle. Feel the blood flow into the chest muscles. Don't quit until you have completely fatigued the chest area.
Bigger Chest Muscles Coming Up
Put together a good program that includes the above exercises and then get to work at the gym. You should start to notice differences within 4 weeks. Let me know how it goes.
Related Posts: