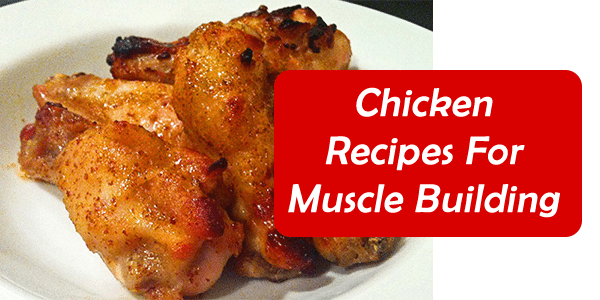 Everyone thinks that chicken recipes for clean eating have to be bland and disgusting, but that couldn't be further from the truth. It is very important for your food to taste good when eating clean or you will fall off the wagon. Today I present some of my favourite chicken recipes for muscle building.
Baked Honey Glazed Garlic Chicken
Ingredients
2 cups raw chicken breasts
1 tbsp natural honey
1 tbsp balsamic vinegar
1 chopped shallot
2 minced garlic cloves
1/2 tsp dry basil
1/4 tsp pepper
Directions
Preheat oven to 375
Place chicken in foil lined baking pan
In a measuring cup add all of the ingredients and pour mixture onto the chicken and bake for 20-25 minutes.
Healthy Southern Fried Chicken
Ingredients
1 lb chicken tenders
1/4 cup Panko breadcrumbs
1/4 cup shredded parmesean cheese
Butter flavored non-stick cooking spray
1 cup buttermilk
Marinade
1/2 Small Onion Cut Into Wedges
2 Tbsp Chopped Parsley
1 Garlic Clove Minced
1 Tsp Red Wine Vinegar
1 Tsp Light Brown Sugar
1 Tsp Salt
1/2 Tsp Ground Pepper
Directions
Combine all of the marinade ingredient in a blender until smooth.
Place chicken in a glass baking dish and pour marinade on it and cover and store in refrigerator for at least 4 hours.
Combine the bread crumbs, chives, parmesan, and buttermilk in a shallow baking dish and coat the chicken with the mixture.
Preheat oven to 425 degrees and place chicken on a non-stick pan and bake for 20 minutes on 350 degrees.
Enjoy this crispy "fried chicken" with a side of home made sweet potato wedges and string beans!
Guilt-free Italian Chicken Parmesean
Ingredients
Chicken Breast (Boneless)
Bread Crumbs
Pam Spray (Butter)
Spaghetti Sauce (Favorite Ready-To-Use Variety)
Parmesan Cheese, Grated
Egg Whites
Low Fat Mozzarella Cheese
Directions
Beat 3 egg whites in a bowl and dip chicken in mixture.
On a separate plate, pour some bread crumbs and evenly coat the chicken and place in a casserole dish that has been sprayed with butter flavored pam spray.
Spoon spaghetti sauce over chicken and top with the parmesan cheese.
Bake at 350 degrees for 30 minutes.
If desired, top with low fat mozzarella cheese and bake for an additional 15 minutes. Serve with whole wheat pasta or salad.
Conclusion
As you can see, food doesn't have to be disgusting to be good for you. Try these 3 recipes out and get back to me!
Related Posts: