I just completed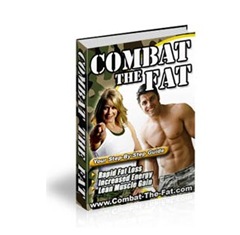 another week of Combat the Fat training and I must say, while I love heavy lifting, this was a very effective workout plan that I will keep on my shelf for future use.  The intensity was perfect for me.  The concepts were sound and they really worked.  I wound up losing 5 inches from my midsection and I lost 10 lbs. on the scale.  All of my numbers were extremely positive.
The biggest lesson I learned from Combat the Fat is that low intensity cardio can be extremely intense.  When I do the one hour session I wind up drenched in sweat.  The hour goes by so fast that it feels like 10 minutes.  I am always amazed when I realize that I am done with the workout.  It is strange, but a great feeling.
Another big lesson is something I already knew, but this program reconfirmed for me—discipline brings about progress.  The Combat the Fat program really forces you to be consistent with your workouts and your nutrition.  That consistency pays off in a big way when you do it for 12 straight weeks.
I honestly miss lifting heavy weights and throwing the plates around.  I am looking forward to my next cycle of training because I am planning to go heavy with very slow repetitions.  The challenge will be amazing.  However, I have alot of respect for both body weight exercises and unconventional approaches to working out now that I've basically completed the Combat the Fat program. 
Top 5 Lessons From Combat the Fat Training
1.  Low intensity cardio can be intense when done correctly and with maximum effort.

2.  CTF Pyramids are nightmarish and will become a part of my arsenal when trying to shock a stubborn body part into growing.

3.  Consistent nutrition is the key to successful fat loss.  I would say it is as much as 80% of the results you get from a program.

4.  Having a plan of attack is essential to successful fat loss.  The haphazard approach just does not work.

5.  Fruit is a great snack for energy.  While many think fruit is bad for you, chosen wisely, it is an awesome part of your nutritional plan.
Related Articles
Relasted Links
Combat the Fat Training program
Related Posts: