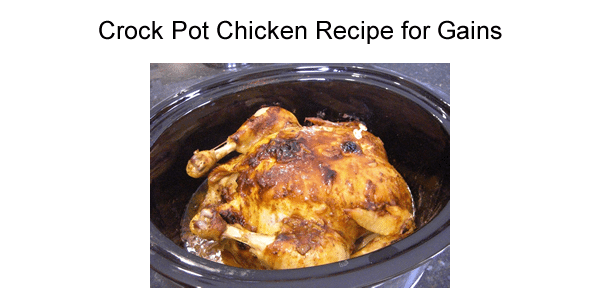 This crock pot chicken recipe is going to help you get the gains you want while enabling you to eat a tasty meal. It is easy to prepare and takes 3 to 4 hours to cook.
Ingredients for Chicken Recipe
The Make-It Bacon Paleo Chicken Classic
1 lb. cubed chicken breasts
1/3 lb chopped bacon.
1 small white onion thinly sliced
1 tsp cumin
1 tsp garlic powder
salt
pepper
2 tbsp chipotle sauce
Directions for Chicken Recipe
Place uncooked bacon pieces in the crock pot. Stir bacon in among the cubed chicken, onion and seasonings
If you like, give it a light olive oil glaze. It will taste good and help keep your chicken from sticking to the pot
Cook on high for 3 to 4 hours
Top with your chipotle sauce upon serving
Nutrition Facts
Calories 594
Total Fat 37.7 g
Total Carbs 1.8 g
Protein 56.2 g
Enjoy this tasty meal!
Related Posts: