Mission Grand Prix Is Born
About 5 months ago I came to the owner of the Metroflex Gym in Long Beach to discuss my situation. I explained to him that I had been stuck at the same weight and fat percentage for months and that I was getting frustrated. He talked with me, took a look at my training and examined my nutrition. He agreed to work with me to get me to my goals. About 3 weeks into the program I announced to him that I had always wanted to step on stage for a bodybuilding competition. As a competitive bodybuilder himself, he encouraged me to pick a date and go for it. As I examined the calendar, April 14, 2012 jumped out at me. The NPC Amateur Grand Prix in Culver City, California would be where I would make my entrance into the world of bodybuilding.
Transformation Process
I started out at 32% body fat and 240 lbs. on the scale.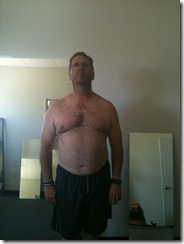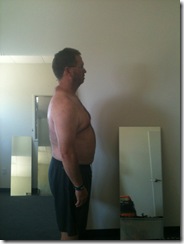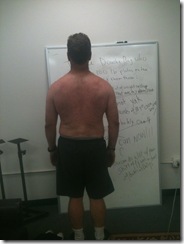 Today I am at 19% body fat and 225 lbs. on the scale. I've lost 30 lbs. of fat and gained 15 lbs. of lean body mass.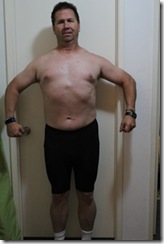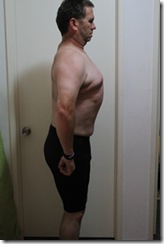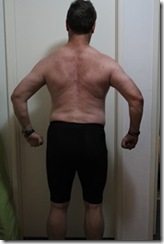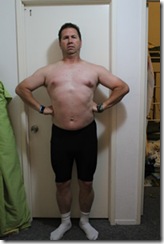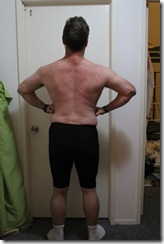 My Thoughts on This Mission Grand Prix
The idea of doing the work doesn't scare me at all. Honestly, even the idea of not doing well isn't on my mind at all. I know I am not only going to get the job done, but I am going to kill it on stage. I have an amazing support system in my family, my trainer and my posing coach. I am working hard at nutrition and training. I am overcoming every obstacle placed in my way. I want to do this for myself, but I also want other 46 year old men to realize that it is never too late to get yourself into shape. If I can do it, anyone can do it!
Posing
As mentioned, I have a posing coach, Ken Turchek, and he is putting me through the paces. We had our first session yesterday. I was very surprised at both the tricks to getting your muscles to pop as well as how difficult posing really is. Ken is going to work with me to perfect my posing techniques. Together we will present the best body at the 2011 Amateur Grand Prix.
Nutrition and Training
My trainer and nutritionist is Chris Albert. He has just finished work on an eBook called Getting to Shredded and having personally utilized the principles in that book, I can highly recommend his methods. The way he works reminds me a lot of everything I was taught by my friend and mentor, Carlos DeJesus. Chris works me hard and feeds me well. He has my metabolism running on high.
The Next 17 Weeks
Today marks 120 days until the show. That means I have 17 weeks to get into ripped shape. I know I am going to get there. My contest dieting begins on January 1, 2012. I am changing up my training a bit at that point as well. I will be pushing hard to win this thing! I appreciate your support.
My Challenge To You
If you are reading this post I have a challenge for you. Tell me (in the comments below) what is the ONE thing that keeps you from getting into the best shape of your life. I look forward to reading your comments. Please help me along this journey towards a successful bodybuilding debut.
Related Posts: