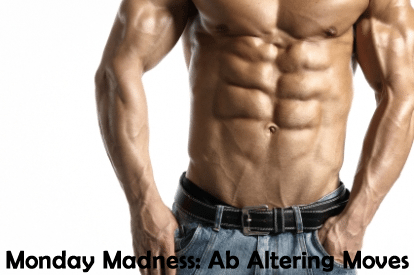 Core training is an important aspect of bodybuilding that many people overlook. Many people I talk to think they have no reason to train their core if they still have a big layer of fat covering it. The point is to work the core so that when your fat layer is gone you are showing some awesome abdominal muscles.
In today's Monday Madness workout I am going to show you a great abdominal only workout that can be done on cardio only days or on rest days. This is not something you would do after a weight training workout.
The Exercises
The Workout Described
This workout is aimed to really hit the midsection hard. We start off with crunches with your legs up off the ground. The video I give you to look at has the legs on a ball. Just picture doing this without the ball and you've got it. Next up are leg thrusters. This is a favorite of mine that works the lower abdominals. You do a knee in and then thrust your legs in the air.  This is followed by a standard cable cunch with as much weight as you can handle. Be sure not to rock back and forth on your torso. Make sure your abs are doing all the work. Next set a bench on a decline and do reverse crunches. Finally do plate twists. These work your obliques. 
Make sure you do these exercises with intensity. Do not just cruise through the workout. Also, as with the calf workout, don't let the burn fool you. Work through it. You will be successful if you push yourself hard.
The Kitchen
It is true when they say "abs are made in the kitchen" so keep this in mind. You are working hard on your core now so that when the kitchen payoff happens you will be ready. Dont' give up. Give it your all and the sky's the limit.
Related Posts: