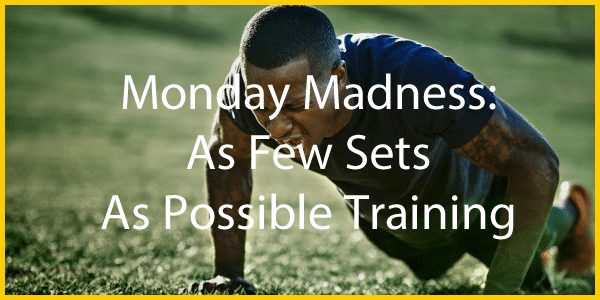 One of the many ways to improve your training is to increase the intensity. There are many approaches to increasing the intensity of a workout, but my favorite at this point in time is "as few sets as possible" training. Let's talk about this and give you a sample workout to try.
What is "As Few Sets as Possible" Training?
With this approach, you would pick a number of repetitions and then attempt to do that number of reps in as few sets as possible. It sounds easy, but you don't allow it to be easy if you handle it correctly and handling it correctly equate to maximum intensity. As an example, if you can curl 90 lbs for 10 repetitions, you would use 90 lbs. for your as few sets as possible set. You would aim for 30 repetitions. Theoretically this should take you 3 sets. Your goal is to do 30 reps in as few sets as you possibly can.
Why This Works
By pushing your body to perform the same number of repetitions in less sets than it would normally take, you are pushing your central nervous system much harder than usual. You also increase the volume of your workout with this approach, doing more repetitions than you normally would. Finally, your strength will grow exponentially using this approach.
Workout for You
| | |
| --- | --- |
| Exercise | Sets/Reps |
| Squats | AFSAP/20 |
| Bulgarian Split Squat | AFSAP/40 |
| Leg Extension | 3/20 |
| Lying Leg Curl | AFSAP/40 |
| Seated Calf Raise | 3/20 |
Workout Explained
This workout will definitely take you to a new place in your training. You start out by doing squats. You are aiming for 20 repetitions. Use what you can do for 5 repetitions. The goal is to get to 20 repetitions in as few sets as you possibly can. The last time I did this exact workout, I did a warm up set of 45 x 15. I then got to 20 repetitions in 3 sets (normally it would be 4). I did 335 x 12; 335 x 5; 335 x 3 and that finished off the set. The next set is 40 Bulgarian Split Squats in as few sets as possible. You move into Leg Extensions, doing the standard 3 sets of 20 repetitions. You then get to Lying Leg Curls, doing 40 in as few sets as possible. You finish off with 3 sets of 20 for your calf raises.
Your legs will be full of blood. The pump will be amazing!
Give this a try and let me know how it goes for you. I guarantee an amazing workout!
Related Posts: