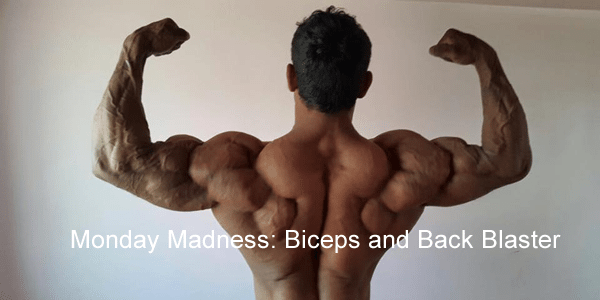 Today's Monday Madness is all about building a crazy set of arms and a wide back! This biceps and back blaster workout will leave you pumped. It involves pre-exhaustion sets as well as supersets throughout.
The Workout
Exercise
Sets x Repetitions
Pullups
2 x failure
Lat Pulldown
3 x 12 (progressively heavier)
Low Cable Row (one arm)
One arm DB Row
3 x 12-15
3 x 12-15
Rope straight arm pulldown
Facepull
3 x 12-15
3 x 12-15
BB Curl
3 sets of 21s (7 full, 7 partials top to halfway, 7 partials bottom to halfway)
Spider Curl
3 x 12-15
Reverse BB Curl
3 x 12-15
DB Alternate Curl
1 "run the rack" set
The Workout Explained
The pull ups are a great way to get started without really risking injury. You will warm up your back and your biceps during that exercise. With the lat pulldowns don't cheat by using momentum. Pull your elbows as low as you can and squeeze. We are using cable rows because they keep the tension on your muscles the entire time. Bent over DB rows give you an amazing stretch and work the back hard. You use less biceps and more lats. The rope pulldowns are great because you have a wider range of motion. The face pulls work your upper back hard. With the BB biceps curl we are doing what is called 21s. You start with 7 full repetitions. You follow up with 7 repetitions from the top to the middle point. You finish with 7 repetitions that go from the bottom to the middle point. At this point you're tired, but make every rep of the spider curls count. You will now do reverse curls that will hit your back as well. Finish with a run the rack set of alternating DB biceps curls.
At the end of this training you are going to feel drained. Get some rest to do it again in a week!
Related Posts: