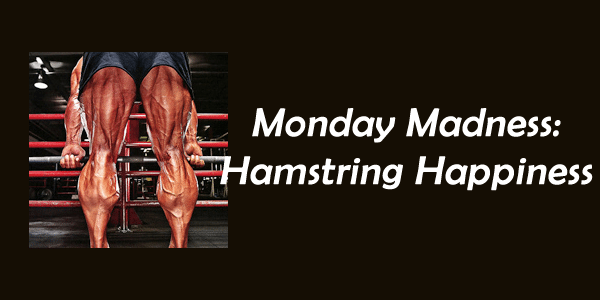 Hamstring training is not for the weak-minded. In order to get great hamstrings you must put in some intense training time. In today's Monday Madness I am going to present you with a hamstring training program that will have your hamstrings growing in no time at all.
Why Hamstring Training is Important
Hamstring training is often neglected or given a lower priority than anything else. Doing an intense hamstring session each week is important to leg development. Having big hamstrings will make your legs look massive. It is much like the triceps for your arms, a big hamstring will make all of your leg look larger.
The Hamstring Happiness Workout
This workout is going to require some focus. You are going to be using heavy weights. Make sure that you use proper form on all exercises. Squeeze the muscle on every single repetition. Do not get lazy. Keep the rest period to a minute or less.
| | | |
| --- | --- | --- |
| Exercise | # of Sets | Repetition Range |
| Lying Hamstring Curls | 4 | 8 to 10 |
| Good Mornings | 4 | 4 to 6 |
| Stiff Leg Deadlifts | 5 | 4 to 6 |
| Seated Leg Curls | 3 | 8 to 10 |
| Lying Hamstring Curls | 2 | 15 to 20 |
You start and finish with lying hamstring curls. This is important to note. The first time you are using a moderate weight. You are going for a tremendous squeeze in the muscle. By the time you hit that last exercise your hamstrings will be on fire. Those last two sets will push blood into that muscle like nothing else will.
Get to Work!
Enough reading! Print this out and take it with you to the gym. Do your hamstring training and report back to us on how it felt.
Related Posts: