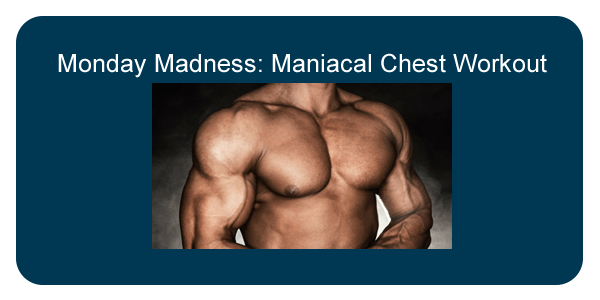 Today I want to show you a chest workout that is pretty insane. I will first show you the workout and then I will explain why it is so important.
How to Execute the Workout
For this workout you are going to use heavy weight but slow cadence on the repetitions. This is a 3 x 3 cadence. That means you take 3 seconds to raise the weight and 3 seconds to lower it. This is going to tire your muscles out a great deal so be ready to adjust accordingly.
The Workout
| | |
| --- | --- |
| Exercise | Sets x Repetitions |
| Decline BB Bench Press | 4 x 6-8 |
| Incline DB Bench Press | 3 x 8-10 |
| Seated Machine Press | 4 x 6-8 |
| Pec Dec Flye | 4 x 12-15 |
| Flat DB Flye | 4 x 10-12 |
| Flat DB Pullover | 5 x 6-8 |
| Dips | 3 x 15 |
Make sure you are controlling the weight. Use a weight that is heavy enough that you can just barely hit the repetition ranges, but make sure you can do the 3 second up and 3 second down cadence. The idea is to put some serious pressure on your chest muscles today.
The Workout Explained
Many of the old time bodybuilders believed in starting their chest workout with a few sets of Decline BB Bench Press and I am no different. I think that declines do a great job of warming up the entire chest. You hit areas that are normally neglected. I then switch to Incline DB Bench Press because my upper chest is one of my weakest areas. When doing the Seated Machine Press make sure to use one arm at a time, alternating. Squeeze hard at the top of the movement so that you tire out your chest. After the machine press has worn you out, switch to the Pec Dec Flye. Be sure your elbows are up and out and that you keep the tension on the muscle. Switch over to the Flat DB Flye. Keep your elbows positioned correctly during the movement. Squeeze at the top of the motion. As you go into the Flat DB Pullover make sure you are emphasizing the chest muscles. Make the movement long by stretching your arms all the way out. Finish off with dips. Make sure you lean forward just a little so that your chest is emphasized.
The slow cadence of this chest workout increases the intensity of the workout. Making sure you squeeze at the top of every repetition, even acting as though you are pushing your hands together (when you really are not) is going to improve your pecs dramatically.
Related Posts: