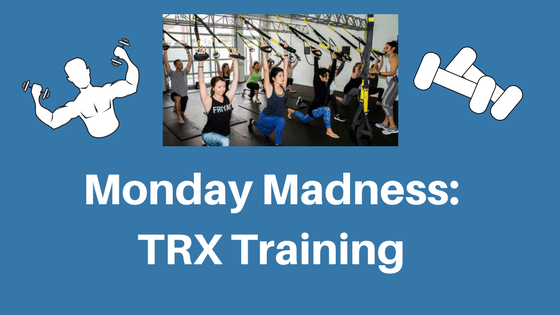 Have you heard of suspension training? It utilizes the same concept as body weight training but adds the use of TRX training bands for a more stimulating full-body workout. The addition of these suspension bands can give you the freedom to move into positions that are impossible to achieve with other workout devices.
Why TRX Training Bands?
The extra challenge introduced by TRX training bands helps build up muscles to achieve a lean body. It's popular among athletes and mixed martial arts fighters. It's even used as part of military training exercises because of the following advantages it brings to the table:
Stronger core muscles
Improved balance and muscle coordination
Larger amount of calories burned
The versatility of the equipment allows you to get all of these benefits at the same time. You're getting the combined advantages of running on a treadmill, pumping your muscles with weights, and doing gymnastic moves with just a single equipment.
The Workout
Here's the workout plan I do with my TRX training bands to get my muscles burning.
| | | |
| --- | --- | --- |
| Exercise | Reps | Rest |
| Lateral squat | 12 reps | 30 sec |
| Jump squat | 12 reps | 30 sec |
| Single-arm row | 10 reps | 30 sec |
| Pike pushup | 10 reps | 30 sec |
| Bicep curls | 15 reps | 30 sec |
| Triceps press | 10 reps | 30 sec |
| Chest press | 10 reps | 30 sec |
| Power pull | 5 reps | 1 min |
I suggest you only do 2 sets of this exercise plan if you're new to suspension training. If you're quite familiar with using TRX bands, do 3 sets or more of this, and reduce your rest time to 15 seconds.
Executing the Workout
The workout will take you around 10-15 minutes to complete, depending on your pace. You can give yourself a minute or two of break time before you repeat the whole set. Use your TRX training bands at least thrice a week to get optimum results.
I usually spend around 30 minutes doing suspension training. After I perform the workout plan I've listed above, I take a short rest and then proceed with a different set of exercises that are harder to perform and target a different group of muscles. The TRX training bands allow me to attack an exercise at multiple angles to maximize my gains in each movement.
The Workout Explained
The freedom of movement provided by TRX training bands makes them a versatile workout equipment. You can switch positions seamlessly and proceed to the next exercise in your routine within a few seconds. This is the trick to get the best results in suspension training: to keep your heart pumping by continuously performing sets of exercises and spending less time in transitioning from one position to another.
When you take a pause during your workout, your heart slows down, decreasing blood circulation. This diminishes the capacity of your body to burn stored fats. With the versatility of TRX training bands, you can switch from one position to another, keeping the momentum of your exercise flowing.
Using your own body weight as resistance provides the right amount of stress to your muscles. Injuries commonly occur when people start lifting weights heavier than their own body, overloading the joints and muscles with great amounts of stress they can't handle.
Although there are other brands of suspension bands, I use TRX training bands because of their superb quality. They're portable since they're basically specialized ropes that can fit into a small bag. Setup is also a breeze. I have no trouble latching mine on the door, on a wall, around a tree, or onto any object with a solid foothold.
Grab your own TRX training bands and start doing suspension training!
Related Posts: