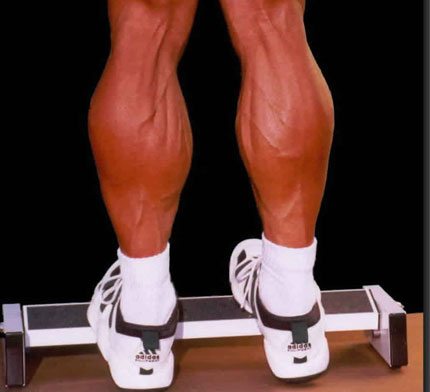 The calves can be a very difficult muscle to train. They are used to carrying around our body weight all day long, so getting them to respond to a weight training program can be very difficult. I have developed an approach that works for my calves and it could very well work for you as well if you follow the instructions I give you.
The Burn Does Not Mean Stop!
The first thing I want to drill into your head is the burn does not mean it is time to stop. As a personal trainer I see this all the time with my clients. They get to the point where the muscle starts to burn and they stop. No! Push past the burn. Go beyond that. Push yourself into the area where growth will occur.
The burn just means there is lactic acid building up in the muscle. If you are going to failure, as long as the weights are moving (even an inch) you have more repetitions left to do. Get them all! Never ever stop short!
The Confusion Principle
Is there any such thing? We have heard about "muscle confusion" from P90X and I am here to say that while I get the point, it is nothing new. Periodization has been around forever in the bodybuilding world. Calf training is an area where you must change things up to get the job done.
I am going to hand you a program that will shock your calves. You will feel soreness in your calves for days after this workout and I guarantee that's not something you are used to. Most people do not train their calves nearly hard enough.
Execution of the Exercises
Please remember that form is more important than the amount of weight you push around. You could do this workout with 200 lbs. and poor form and you will get better results dropping to 100 lbs. with excellent form. For the calves you want to get a full stretch at the top of every movement. Act as though you are trying to reach something up on a very high shelf and get on the tips of your toes so that your calves get fully stretched. At the top fo the movement pause so that there is a squeeze. Slowly lower the weight back down. Do not bounce the weight at all.
The Workout Plan
| | | |
| --- | --- | --- |
| Exercise | Sets | Repetitions |
| Standing Calf Raises | 3 | 15 |
| Standing Calfe Raise | 2 | 30 |
| Seated Calf Raise | 3 | 15 |
| Seated Calf Raise | 2 | 30 |
| Leg Press Calf Press – Toes in | 2 | 50 |
| Leg Press Calf Press – Toes out | 2 | 50 |
| Donkey Calf Raises | 2 | 15 |
| Barbell Calf Raises | 2 | 30 |
The Workout Described
This workout will shock your calves for sure. It starts out with standing calf raises. Use a heavy weight and get 15 reps to just shy of complete failure. Push through the burn. Do 3 sets in this manner. Now lower the weight and do 2 more sets and get 30 reps just shy of complete failure. Now move eon to the seated calf raise and use the same strategy. Do 15 repetitions with a heavy weight for 3 sets just shy of failure. Lower the weight and get 2 more sets at 30 repetitions just shy of failure. Continue on to the leg press machine. You are going to do calf presses here. Use a light weight. Point your toes in towards each other and do 2 sets of 50 repetitions. Now turn your toes outward away from each other and do another 2 sets of 50 repetitions. By now your calves will be sore, but you are not done. You are going to finish them off with 2 rarely done movements. Do 2 sets of Donkey Calf Raises with a heavy weight for 15 repetitions. Go to complete failure on both sets. Finish the workout with Barbell Calf Raises. Do 2 sets of 30 repetitions to complete failure. Obviously you will have to use a lighter weight.
Tips to Making This Work
You need to push past the burn. I cannot say that enough. Calf exercises burn and they burn a lot. Pushing past will get you to where you need to go. You will work the muscle hardcore. You also should change up the order of things. Change the seated calf raises around with the standing calf raises. You can also mix up the order of the heavy vs. light sets. Don't get complacent with the calves because they will not grow unless you shock them hard.
Related Posts: