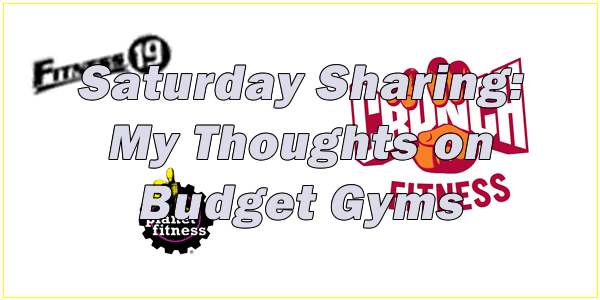 Budget gyms are all the rage these days. From Planet Fitness to Crunch Fitness to Fitness 19, there is an explosion of gyms that offer memberships that are less than $10 a month. Today I want to give you my thoughts on these budget gyms.
I am all for saving money, but I also need to have good equipment. What I am going to tell you about budget gyms may surprise you, but it is the truth as I have experienced it.  I was a member of 24 Hour Fitness for many years. My experience with them is that they continually raised my monthly dues and continually provided me with worse service. Equipment was always broken and it didn't get fixed in a timely manner. It was very frustrating. Then along came Fitness 19 to our town.
At first I was very leery because another gym, Chuze Fitness, had opened up as well and it had no free weights at all. I cannot and will not workout without some free weights. After talking to the staff who were handling the opening of Fitness 19 in Buena Park, California, I decided to join. As soon as they opened I was in that gym daily. I wound up cancelling my 24 Hour Fitness membership as a result. I wound up paying the higher fee of just $12 a month to have all club access. So far it has been worth it.
To me you need to be careful when joining a budget gym, but don't shy away just because they are cheap. Check them out. Ask questions. See if they have the tools you need to get your workout done. What works for one person won't necessarily work for another person (the Experiment of One). These budget gyms are cheaper because they generally don't offer showers or other amenities that the more expensive gyms offer. However, most of us don't even utilize these extras, but we are paying for them monthly.
I say screw the high priced gyms! Get yourself into a budget gym and start working out regularly.
Related Posts: