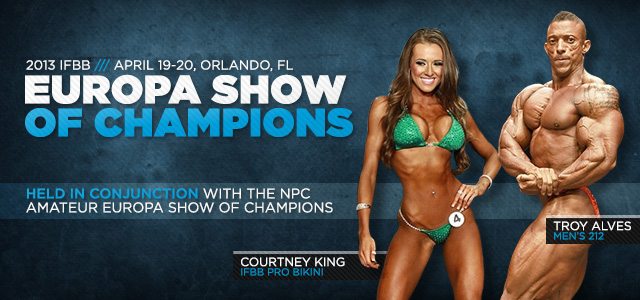 The IFBB Europa Show of Champions was held on April 19 and 20 in Orlando, FL. The competitors were split into various divisions like Men's 212, Men's Physique, Women's Physique and Women's Bikini. The show was another great one.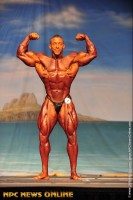 Troy Alves made his first foray into the 212 division and came away with a first place finish. This is the second time Alves has won a title at the Europa in Orlando. In 2009 Alves won the Men's Open Bodybuilding title. Alves win has furthered the current trend of bodybuilders older than 40 winning a contest or placing high. Dexter Jackson, Johnnie Jackson and Toney Freeman are other over-40 competitors who have placed in the top two of various contests over the past year. Raul Jiminez (2nd) and Marco Rivera (3rd) rounded out the top three.
Alves is known for his symmetrical and balanced body. Alves has been featured in many fitness articles over the years and has appeared on the cover of FLEX magazine. Today he lives in Peoria, Arizona, USAwhere he owns his own supplement store Pro Nutrition.
Troy competed on February 20, 2010 at the 1st Phoenix Pro IFBB Pro Bodybuilding Show in Mesa, Arizona. Troy Alves won his 2nd IFBB Professional 1st place win in Connecticut Saturday July 30, 2011 for the Europa battle of champions and his 3rd IFBB Professional 1st place win in Arizona at the 2nd Annual Phoenix Pro IFBB Pro Bodybuilding Show Saturday August 2011.
Troy is currently sponsored by USN (Ultimate Sports Nutrition) and is available for store guest appearances and for guest posing at body building shows by contacting or calling the Pro Nutrition store in Peoria, Arizona. Troy is known for his loyal fan appreciation and easy communication with questions about the sport, for sports and health conferences / expos.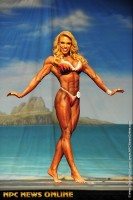 Patricia Mello successfully defended the title she won a year ago and won for the third time in her Women's Physique career. It was the second straight win for the 5'11 Brazilian, who was coming off a win at last week's Pro Grand Prix. Mikaila Soto placed second, the third time she has finished as the runner-up in the last year. Amanda Dunbar placed third in her debut in the division.
Patricia is an international fitness model and actress. Her sponsor is Jan Tana, Inc.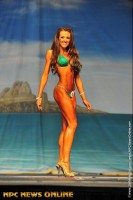 Courtney King took first place and it was the first win of her very short career. She is the IFBB's youngest competitor at the age of 19. She turned pro at the 2012 NPC USAs. She has now placed first and second in her first two IFBB shows.Ashley Kaltwasser – the 2012 NPC Team Universe Overall winner – placed second, her highest finish in three IFBB competitions. Aly Veneno finished in third for the second straight contest. Veneno also placed 3rd at the Battle on the Beach.
Courtney is a member of Team Bombshell. This team has been doing extremely well of late, having swept the Pittsburgh Figure Pro just a few weeks ago. In the past 24 months, Team Bombshell Girls have earned 25 IFBB Pro Cards, 23 Olympia Invites, won 9 IFBB Pro Championship wins, 150+ Overall NPC Titles, 300+ NPC Class Wins, 600+ NPC Trophies and 9 of our Athletes signed with the exclusive Management Company, FMG.
This is a team to be watched in the competition world.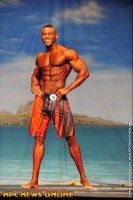 Anderson, who earned his IFBB pro card by winning the Overall at last year's NPC Masters Nationals, improved drastically from his 7th-place finish at last week's Pro Grand Prix. That placing was Anderson's first outside of the top five in four professional contests. Sadik Hadzovic finished as the runner-up, the third time he has finished in the No. 2 spot as a pro. Hadzovic has now placed in the top five in all five of his MPD competitions. Dean Fazzolari placed third, his highest finish in three pro contests.
Related Posts: