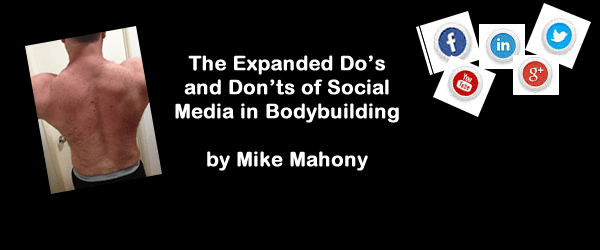 I was browsing my Facebook feed when I found this article, "The Do's and Don'ts of Social Media in Bodybuilding" by a friend and bodybuilder, Luis Uridel. Luis discusses the following list of Do's and Don'ts for bodybuilding success in social media.
| | |
| --- | --- |
| Do | Don't |
| Promote local shows | Don't promote yourself as winning the next local show |
| Post pictures of yourself | Don't take the pictures yourself |
| Post videos of your workout | Post constant updates that you are at the gym |
| Attack actions, not individuals | Air your dirty laundry |
|   | Bash the judges at your last contest |
I asked for Luis' permission to expand on this list and he said "Knock yourself out homie!" So here is my attempt at knocking myself out with this topic.
Social Media in Bodybuilding: Do's and Don'ts
Do: Post pictures of yourself, but tag the people in the picture with you. Social media is about being social, so include those who are in the picture with you so they also get some exposure.
Don't: Brag about your latest PR lift. People are looking to you for motivation. If you want to talk about your PR that's fine, but don't make it seem like you are so much better than anyone else because of your PR.
Do: Take the time to explain one of your workouts in detail. It is a very helpful thing for people who are not in the know. As fans of the sport, we are around knowledgeable people all the time and we forget how little the general public knows about proper training.
Don't: Show dangerous exercises that can cause injury to the less experienced lifter. Our job is to promote the sport and ourselves, not to help other people obtain an injury timeout.
Do: Post raw video footage more often than the polished stuff. People appreciate keeping it real. Just doing so will make a huge difference in your following.
Don't: Post pictures of what you're eating without describing what is in it. Chicken and fish look very similar when in a picture of a salad. Explain the ingredients so that your follower can recreate the meal.
Do: Call out programs that are dangerous, inefficient or otherwise not effective and explain why you feel that way.
Don't: Promote any product you wouldn't recommend to your own family. The 4 minute workout once a week? Are YOU going to use it? If not, don't promote it. This sport is about more than just the money. I've been working on a couple of my own products for 2 years because I want them to be good when released.
Do: Share pictures of your fellow competitors whom you are friends with. Cross-promotion is very important to growing your following and your following will help you get sponsored.
Don't: Waste your follower's time. Make sure that you have reviewed everything you post and be sure it is something you agree with. Posting things just to have a presence is not effective at all.
Do: Share your resources with your followers. If you have a particular guru you believe in, tell your followers about him/her and explain in detail why you recommend that person.
Don't: Name names when calling out programs that you don't like. Doing so creates negative energy between you and that person and it is not something you want to have hanging over your head.
Do: Hold yourself accountable at all times. If you mess up on something (ie. your diet) let your followers know and show them how you got back on track. Be real at all times.
Don't: Share only positive experiences. The negative experiences are part of the process, so share them as well.
Social Media Accountability
Pay attention to what your peers are doing and be sure to hold yourself accountable. If you mess up, apologize immediately. Show people that you are real and that they can count on you for real information and they will follow you. 
Social Media Sales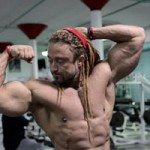 Social media requires trust and that takes time. Take the time to build up the trust and you will have an excellent base to promote your products to. People will trust you and help spread the word about you and your products. When I competed in my first competition I had so many people share my photos. It was exhilarating and I didn't feel even close to where I needed to be. I was a hero to some. It was a truly amazing experience.
Enjoy your time on social media. Don't let the haters get you down. Follow my tips and those from Luis Uridel in his wonderful article and you will be on your way. Let us know if you have anything to add to the list.
Related Posts: