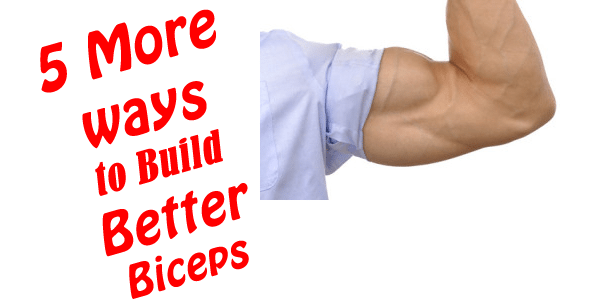 Better biceps is something everyone seems to want. I previously presented you with 5 Ways to Build Better Biceps and today I am going to offer you 5 more ways to build better biceps.
Dedicate a training day to the arms. I personally mix this up in my training. I train my biceps with my back and my triceps with my chest, but I also have one day where I go all out heavy weights and hit the arms only. It helps because you are fresh and can work the arms with much more intensity.
Use a thick bar or Fat Gripz. Using a thick bar or some sort of device (ie. Fat Gripz) that thickens the bar when training arms will give you a brutal all out attack on the arms.
Extend your pinky or your thumb to touch the barbell itself. This changes the way the curls feel and makes your arms work even harder. The variety is good for the muscle as well.
Use 21s in your biceps training. You will find that 21s increase the time under tension. What are 21s? They involve working the 3 areas of the movement with 7 reps each. Start with partial curls for 7 reps. Move on to the mid-range of the curl for 7 reps and then do full range of curls for 7 reps.
Squeeze like mad. One thing I notice at the gym is people swinging the weight and letting it drop. They are not training as hard as they should be. Try getting a good squeeze in the muscle at the top of each movement. As you bring the dumbbell to the top, rotate your hand so that your thumb moves away from your body. Squeeze the muscle in that position and then slowly lower the weight back down. Repeat this for the required number of repetitions.
Arms look impressive when developed properly. They also help with upper body strength. Follow the above tips and you will see some major changes in your arms in no time at all.
Related Posts: