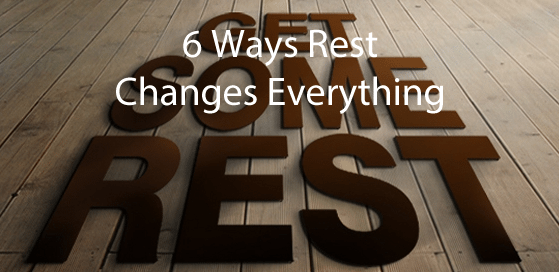 Rest is something most people tend to overlook. They believe that if they take "some" time off or get "some" sleep that it is "good enough" but that couldn't be further from the truth. Rest is a variable that effects recovery, growth and future strength gains. The following are 6 ways rest can change everything.
Maximize Recovery
As soon as you complete a workout your body goes to work attempting to recover. It tries to mend the torn muscle fibers. Recovery can be thrown off by the number of days you train or the amount of sleep you get. Adjustments to both can help you recover better.
When I was doing a High Intensity Training (HIT) routine, it asked me to lift 3 days a week (Monday, Wednesday and Friday). After pushing hard for 3 weeks my weights were at an all-time maximum. Suddenly I was having trouble with my favourite exercise—-the deadlift. At the suggestion of my friend and mentor, Carlos DeJesus, I cut one day out of the weekly schedule. I dropped to 2 days a week. My instincts said this was crazy, but I listened to my mentor and took the extra day off. Almost instantly my weights began to grow again. I saw gains after a period of being stalled. Just trimming one day from the training schedule gave me what I needed to take my body to that next level.
Maximize Growth
It is during rest that the body repairs and grows the muscles. The more rest you get the more you will wash your muscles with natural growth hormone. You need to sleep to grow.
Maximize the Next Workout
Resting aides in recovery and recovery makes it possible to do our best at our next workout. By resting properly we will be able to follow the Overload Principle and continue to add weight, sets and reps to our routine.
Maximize Strength
Rest makes us stronger. It is a fact. Our body cannot run efficiently when it is run down. Take the time to rest in order to improve your strength.
Avoid Illness
When we let our body run down we increase the odds of getting sick. Being sick will likely keep us out of the gym. This is why it is important to get enough rest. Stay healthy and you can continue making gains in the gym.
Maximize Mental Ability
I don't care what you've read, the brain plays a huge part in our training. I personally use visualization when doing exercises, seeing myself in my mind maximally contracting each muscle on every rep. Getting enough rest will boost your mental capacities considerably.
Do not ignore the importance of adequate rest.
Related Posts: