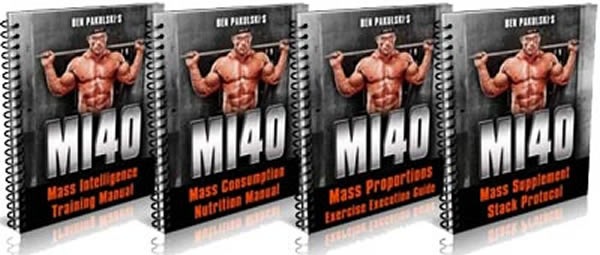 I spent the past month going over the MI40 Mass Intentions program from IFBB Pro Ben Pakulski. My intention in this review is to inform you on the content this program provides and advise you as to whether or not it is worth purchasing.
In my opinion, most training programs released on the internet today are just a rehash of someone else's ideas. They rarely bring something that I have not seen before. I tell you this because I want you to understand what my mindset was going into my review of MI40 by IFBB Pro Ben Pakulski.
What Do You Get?
MI40 is primarily a video program. It has several written components to it, including a training guide, but the meat of the program is the video presentations. I will discuss the quality of the videos later in this review, but I found it interesting that Ben spent so much time on videos.
What Is the Significance of the Term "MI40"?
When IFBB Pro Ben Pakulski uses the term "MI40" he is really telling you a lot about his program. For one, the "MI" stands for Mass Intentions. Mass Intentions is simply a way of tweaking an exercise to recruit maximum muscle fibers. It is difficult to put this into writing, which is why Ben has spent hours on video content with this program. One example I can give of Mass Intentions relates to lying hamstring curls. Ben discusses (and shows in a video) how to make sure that the exercise is really hitting your hamstrings directly. It is a small tweak, but one that seems to work (I've tried it).
The "40" part is related to many aspects of the program. It relates to the 40 exercise examples given, the 40 minute length of each workout, the 40 seconds rest between exercises and the 40 days length of the program itself.
Quality or Quantity or Both?
I really enjoyed the videos that were done for this program. They were professional and actually helped to explain the concepts quite well. My complaint is that there is not enough written material. I am the type of person who likes to read over a description and mentally absorb it.  That just isn't possible with the way this program is designed. It is primarily a video program. I would be happier if the program had a matching manual similar to the way Jeff Anderson does things in his eBooks.
My Opinion on MI40
While a lot of what is contained in MI40 is far from revolutionary, I'd say there is enough here that it is a worthwhile purchase. IFBB Pro Ben Pakulski shares some great tips for activating the muscles in a unique way utilizing angles, tension, etc. For a fan of bodybuilding like me, this is a great program to review because it gives you a glimpse into the training of an IFBB Professional. At the same time, there really wasn't enough of the revolutionary material if you are an advanced trainee. Ben offers a money back guarantee, so what have you got to lose? Give this program a try. Just be aware of the fact that you will not be able to utilize this (or any program for that matter) continuously without changing it up.
Related Posts: