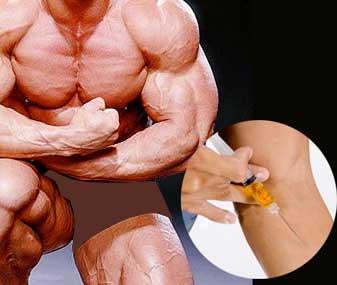 I hear that exclaimed all the time about someone who is jacked — "But he uses steroids!" Like somehow that negates the hard work he has done to get to where he is.  People seem to be of the belief that all you do is take some drugs and grow like a weed. People seem to think that the training and diet are secondary to the drugs. That simply isn't true. I will attempt to give you a very brief overview of anabolic steroids and their effects in this article.
What Are Anabolic Steroids?
Anabolic steroids are steroid hormones based on androgen testosterone. They are also known as AAS (anabolic androgenic steroids). AAS is also known as performance enhancing drugs.
What Anabolic Steroids Do
Anabolic steroids increase protein synthesis. This means that the body is more easily able to utilize the protein you feed it. In addition they emphasize masculine characteristics like hair growth and vocal chords. 
How Anabolic Steroids Work
Anabolic steroids have an effect on muscle mass and strength through two processes. AAS will cause an increase in the production of proteins, which are the building blocks of muscle. AAS will also block the effect of the hormone cortisol on muscles. This will cause existing muscle to be broken down at a slower rate. This is known as a muscle saving tendency. AAS will also lead to cells differentiating into muscle more readily than fat. In a nutshell, AAS will encourage muscle growth.
The Magic Pill Syndrome
The reason, in my opinion, that so many people think that all you have to do is take "steroids" and you get big is that they want that "magic pill" that solves all their problems. I am here to tell you that pill does not exist in any form. Yes, AAS will give you an edge you might not have had, but it doesn't come without risks (risks I cannot go into in this article, but will in a future article). However, you still need to eat clean and train hard in order to see gains. In fact, in my opinion, if you use AAS and you do NOT eat clean and train hard you are wasting your time completely. 
Stop looking for a magic pill. You can take an AAS and grow, but you aren't going to do it with the AAS alone. Get yourself into the gym and get back to the basics. That's what works. It worked for the old time bodybuilders and it will work for you as well. 
Related Posts: