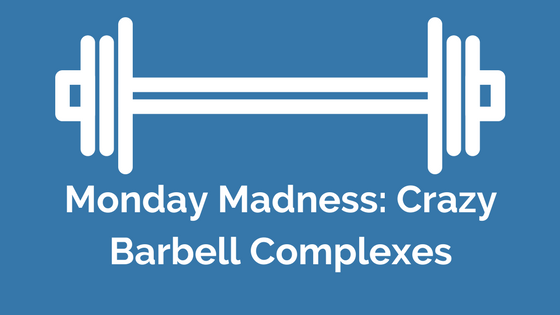 Barbell complexes are a great way to push up the intensity of your training. If you have not used them, read on. A complex is a string of exercises done continuously until the whole routine is finished. In a barbell complex, this means you shouldn't let go of the weights as you transition from one movement to another.
Why Barbell Complexes Work
Here are a few reasons why barbell complexes rock:
It provides a way to burn fat without keeping you from gaining muscle mass

Instead of running on a treadmill for cardio, you can get your heart racing with the intensity of each exercise in your barbell complex

It's more challenging compared to other workout routines

It gives you a

chance to work on your form and technique as you perform different types of lifting exercises
Now that you know there's a lot to gain from barbell complexes, let's continue discussing the workout itself.
A Barbell Complex Workout
For those new to barbell complexes, you can follow this simple barbell complex I concocted:
| | |
| --- | --- |
| | |
| | |
| | |
| | |
| | |
| Behind-the-neck push press | |
Beginners should repeat the whole set up to 3 times; rest at most 3 minutes after each round. Intermediate lifters can do 4 rounds while advanced lifters can do 5, with the former taking only 2 minutes of break time and the latter only a minute to inhale some oxygen. This is the real beauty of barbell complexes.
Executing the Workout
You only need to do the barbell complex once a week. It will take only around 15-20 minutes of your time.
For beginners, I suggest you start with 50lbs of weight; intermediate lifters can do 70-80lbs; advanced ones can do over a hundred or more. Remember that the impact of the barbell complex is not grounded on how heavy the weights are but on the continuous motion and transition of your arm muscles as you switch from one complete set to another.
You don't have to strictly follow the barbell complex setup I gave you. You can add your own exercise in the mix, do more than just 6 reps, or even complete it as fast as you can. The most important thing to remember is that you have to keep your hands on the barbell and never let go until you're done with everything.
I prefer executing the barbell complex as a finisher for my usual workout routine. However, you can also do it as a separate conditioning exercise. It really depends on how your body can take this intense workout.
The Workout Explained
It's hard to get ripped by losing fat and develop a big body by lifting at the same time. Oftentimes, these workouts contradict each other, preventing you from maximizing your gains in both areas. I'm having a hard time myself combining a running routine to burn fat and calories and lifting weights to build up my muscles; they just don't go well with each other.
In a barbell complex, the weights don't have to be heavy because the real burn lies in the number of repetitions and the fluid transition between each exercise. The amazing thing about this type of exercise is how it can keep your heart rate up even if you're only lifting light weights. With a barbell complex, you can both lose fat and gain muscle mass.
More on Barbell Complexes
https://www.muscleandfitness.com/workouts/workout-tips/5-ways-amp-barbell-complexes
Related Posts: