As a way of helping you help yourself, I will be running a series about identifying who might be worth paying attention to and who to run from when looking into fitness programs.  As with everything else presented on Fitness Exposé, I will present you with some principles and then you can use those principles to guide you in your endeavors.
Why is it important?
I get asked this question alot.  Why is it important to check out the people you are getting training information from?  The internet is an awesome place and is loaded with information, but that's exactly the problem.  It is altogether too easy to publish anything you want on the internet and then establish yourself as an "expert".  As the consumer, it is up to you to check things out, even the information provided on this site.
I am a Christian, so I believe in what the Bible has to say on these issues and it is very clear.
"Now these were more noble-minded than those in Thessalonica, for they received the word with great eagerness, examining the Scriptures daily to see whether these things were so." Acts 17:11
The idea here is simple and one that cannot be easily denied.  Those who check things out for themselves are at an advantage over those who do not.  It is difficult to be duped if you spend just a little time doing research before making a decision on what to do.
Sales pages on the internet are called "squeeze pages" for a reason—they want to squeeze your money out of you before you have a chance to change your mind.  Don't fall prey to that mentality.  Stop and think before you make a purchase.  The next article in this series will discuss the technique that I use for avoiding being squeezed by the "squeeze pages" that exist on the internet.
The Guarantee
Most of the marketers on the internet utilize Clickbank to sell their products because it is easy.  At the same time, they also utilize the money back guarantee concept as well.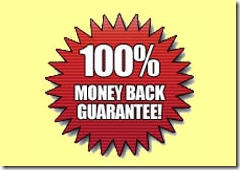 So if it is guaranteed, why do so few people take advantage of the guarantee?  The next article in this series will discuss why it is important to hold these guys to their word.  You won't want to miss the information that is presented in that article as it will change your risk factor on this issue forever.
Their Credentials
The word credentials is closely related to the word credibility.  You need to check the credentials of the person offering you the information.  Why should you be listening to the advice they have?  What makes them an "expert" on the topic at hand?
At Fitness Exposé we are qualified to speak on this topic because we've been burned by these so-called fitness experts several times.  We have developed a method for stopping this from happening and that's why this website exists in the first place.  The final article in the series will examine a method for checking the credentials of your "expert" so that you can make an informed decision about the information they are trying to sell you.
Be Part of the Solution
If you aren't part of the solution you are part of the problem.  You will learn that you have the power to change things if you just respond in a consistent manner.  If you aren't sure how to be part of the solution, this site is just what the doctor ordered.  With my panel of experts, I will give you the information you need to be part of the solution.  Remember, we are here to help you help yourself.
Related Reading:
Related Posts: