Tom Venuto has just posted a podcast with a very good friend of mine, my mentor, Carlos DeJesus.  I heard this podcast in advance of it actually being released and I can say that it contains some information everyone needs to know.  Here is what Tom says about the podcast:
Did you ever wonder what it takes to be a national and world bodybuilding champion without steroids? How do you overcome the pain barrier, break through perceived genetic limitations and push yourself into "the beyond" without drugs?

You'll find out in this second episode of the Bodybuilding Secrets Podcast featuring natural bodybuilding pioneer, Carlos DeJesus with your host, me, Tom Venuto.

Carlos DeJesus is a pioneer in natural bodybuilding, one of the first physique athletes ever to compete in drug-tested competitions when they first emerged in the early 1980's. His titles include:

1980 Natural Virginia State

1981 Natural Mr. USA

1981 Natural Mr. North America

1985 Natural Mr. World

Today Carlos works as a trainer, motivational speaker and certified medical exercise therapist. He develops conditioning programs for special needs and rehab and he also continues to work with serious athletes and hard core bodybuilders.

Carlos is also an inventor of exercise equipment, including the patented quad blaster.

A thinking man's bodybuilder, Over the last three decades, Carlos had created and organized a true philosophy for natural bodybuilders.

For the first time ever, in this exclusive audio MP3 podcast, Carlos explains and articulates his beliefs about what it really takes to be a world champion.

You will never hear this type of information from any ordinary personal trainer or read it in any mainstream fitness magazine. Only the bodybuilding world champions think this way…. that is why they are champions, and all the others aren't.
To hear this podcast, download it from http://www.bodybuildingsecrets.com/articles/bodybuilding_secrets_podcast_episode_2_carlos_dejesus.php
Get out your pen and notepad and take notes as you listen.  I am planning to do a review of this podcast in the near future, so return for that one as well!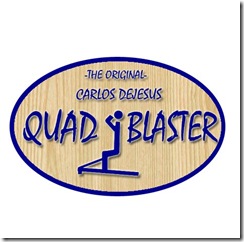 The Quad Blaster:  Leg training like the squat, but without the lower back pain and risk of injury!
Do you want larger quads?
Do you want to avoid injury?
Do you have back problems?
The Quad Blaster is for you!
Order Your Quad Blaster Here
Related Posts: