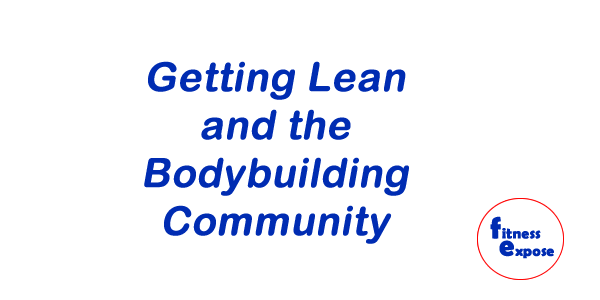 Getting lean is something most people want to do. How many of you want 6-pack abs? That's part of getting lean. The goals you have will undoubtedly have something related to getting lean.
How many of you with the goal of getting lean have actually paid attention to the bodybuilding community and what they have to say on the topic?
The Bodybuilding Community Perspective on Getting Lean
Unconventional Tips for Getting Lean
Muscle and Fitness has an article called 6 Little Known Tips for Getting Lean. This article recommends things like training on an empty stomach, not eating immediately after a workout, being sure to eat saturated fats and managing stress. Losing fat through these tips will make you stretch your thinking and that is a good thing.
Getting Lean with 25 Ways to Lose Fat Faster
Men's Fitness has an article called How to Get Lean: 25 Ways to Lose Fat Faster. This article contains some conventional as well as unconventional approaches to fat loss. For instance, using HIIT for your cardio was not exactly mind-blowing to me, but it is extremely important to note.  Losing fat by hitting the weights is one I think everyone (especially the women) should pay attention to. Getting lean with an all over approach is also something everyone should pay attention to. There are so many other wonderful tips that you should definitely read the article.
Hugo Says Getting Lean is Possible in 8 Weeks
Hugo Rivera wrote an article called Hugo's Rules for Getting Lean in 8 Weeks. I agree with Hugo. He says that weight training needs to be the emphasis. He claims that cardio should be used as a tool to increase calorie burn. One extremely important tip is to start higher with your calories for the best possible chance at getting lean. He even suggests adding 500 calories from carbs on Sundays. It is all very practical advice and contains things you can put into effect immediately.
Getting Lean Using Barbell Complexes
Chris Albert of Getting to Shredded teaches that you will have an easier time getting lean if you use barbell complexes as the basis for your weight training workouts. Chris also recommends using prowler pushes in place of cardio. He teaches you how to eat properly for getting lean. His program is amazing and he even has a membership site that gives advice about getting lean.
Weight Training: The Key to Getting Lean
It is evident that the bodybuilding community sees weight training as the key to getting lean. This is because muscle burns fat and that means muscle helps us in our quest to getting lean. Like Hugo Rivera said, weight training should be the emphasis while cardio should just be a tool to burn additional calories. What tips have you got? Leave them in the comments section.
Related Posts: