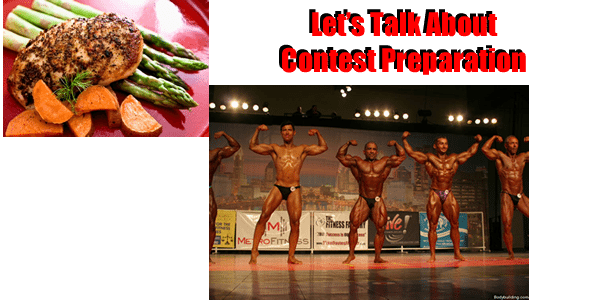 Contest preparation. Those two words seem to scare so many people. I am going to talk to you about contest preparation from my perspective. Maybe it will help you if you're on the fence about competing.
Making the Decision
You have to make a decision to compete before you will ever have to embark on a contest preparation cycle. Once you compete you will be addicted to it. I personally have caught the bug and this coming year (2014) I plan to do several shows. In order to make this decision you need to consider your will power, finances and discipline. It has to be something you are doing for yourself as that is the only way it is going to work. All of the work will have to come from you so you can't do this because you want to make someone else happy.
Evaluating Your Mental State
The one thing that I see that hurts people during contest preparation is their mental attitude. People whine and complain if their carbs are cut or their cardio is increased.  A good coach will adjust these variables as you go along. You have to be tough and just do the work. To me the meals are just fuel for my body. The supplements help the fuel. The training shapes the body. Thus, any adjustments to any part of the plan is fine. I don't stress myself out about it. I figure I signed up for this so why complain? Will whining change anything? You bet it will–in a negative way. It is going to get in the way of your progress. If you are going through contest preparation and have made the plan to actually complete it then suck it up!
Creating the Plan
I sat down with my prep coach, Ken Turchek, and planned out how to handle the contest preparation. We did this 6 months out from the show. I need to build more mass and that is why we sat down so early. It is a long and difficult process to gain muscle and I needed all the time I could get. Ken and I looked at my training schedule and made some serious decisions. The training schedule I keep is NOT something most people would feel comfortable with. Because of the need to build muscle we decided to hit some body parts multiple times per week in a 6-day training cycle. Ken continually tells me that the body has no idea what a week is, so just train!
| | | | | | | |
| --- | --- | --- | --- | --- | --- | --- |
| | Day 1 | Day 2 | Day 3 | Day 4 | Day 5 | Day 6 |
| AM | Cardio | Chest | Cardio | Cardio | Shoulders | Cardio/Biceps(p) |
| PM | Back(t)/biceps(p) | Shoulders | Biceps(h)/triceps(h) | Back(w)/Calves | Chest/Triceps(p) | Hams/Quads |
This plan takes care of really hitting my weak spots. It gets me doing cardio 3 times each 6 days. It is almost an average of 4 times a week over the course of a month. I run this training cycle back to back to back. After Day 6 I go right back to Day 1 and continue. I do not take rest days during contest preparation. It is work and I have to get that job done!
We also planned my supplementation usage. We used a strategy to this as well. Ken is a huge believer in BCAA usage (I am as well). In fact, as we got down to the month before the show I was constantly sipping BCAAs.
Executing the Plan
Here is where the rubber meets the road. There are going to be adjustments to the plan as you go along. Just hang in there. Do what your coach tells you to do. Understand that everything you do is aimed at accomplishing your goal of stepping on stage. The sore muscles, hunger pains, etc. are all worth it in the end. Be diligent about your execution of the plan. The rewards are worth it. Do you have any comments to share about contest preparation? Put them in the comments section below.
Related Posts: