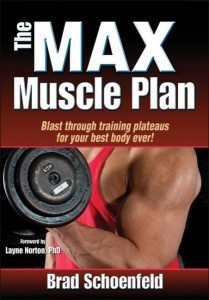 Some time ago I used a full body workout routine and loved it. My body responded quite well and it gave me flexibility to make some major adjustments if and when needed. When I heard that someone I have a lot of respect for was using The Max Muscle Plan by Brad Scheonfeld I got intrigued, so I looked it up.
Periodization
Periodization is the systematic planning of athletic or physical training. The aim is to reach the best possible performance in the most important competition of the year. It involves progressive cycling of various aspects of a training program during a specific period.
Dr. Schoenfeld has designed a periodized program that aims to keep your body guessing. He has carefully crafted the program into four different phases–Break-in Phase, Strength Phase, Metabolic Phase and Muscle Phase. I am currently in the Strength Phase. Now, because the details of this plan are the meat of Dr. Schoenfeld's book, I am not going to give you details, but I will give you the general idea of how this program has worked for me.
Strength Phase
After completing the Break-in Phase I jumped straight into the Strength Phase. It is very well programmed. I have been able to make continual progress on the amount of weight I am using. My body is responding positively to the program. My strength is going up and that necessarily means my muscles are growing. I am pushing as hard as I can. When I did full body workouts previously I was using the HIT style and while MAX Muscle is not HIT, it comes close to that.
Cardio
Dr. Schoenfeld definitely recommends doing cardio on the off days. This is the one place I have adjusted just a little. I do the cardio on the off days, but I also insert a little trick I learned when doing contest preparation. After each weight training session I insert a 10 minute HIIT session. I use a 30 second high intensity interval followed by a 30 second low intensity interval.  I found that this approach burns the maximum amount of fat, hence the adjustment to the plan here.
Why Adjust the Plan?
I am a big believer that there is no cookie cutter approach to work for everyone. I believe that Dr. Schoenfeld has come up with an ingenious plan and it will work exactly as laid out, but as an individual you need to exercise the Experiment of One. You have to find out what works for your body and then adjust things to meet  your own body's needs. It is that simple. Do this very cautiously. Make sure that your adjustment doesn't derail the plan. In my case I added a small HIIT session after each weight training session. That will not drastically change the overall program so I felt safe making that adjustment.
My Recommendation
The MAX Muscle Plan by Dr. Brad Schoenfeld is available in a paperback version or a Kindle version from Amazon.com. I believe that you should add this weapon to your arsenal. It works quite well and is a complete program that lasts many months. By grabbing a copy of this book you will be given workouts for the next 6 months that will continually make your body guess at what is coming next.
Related Posts: