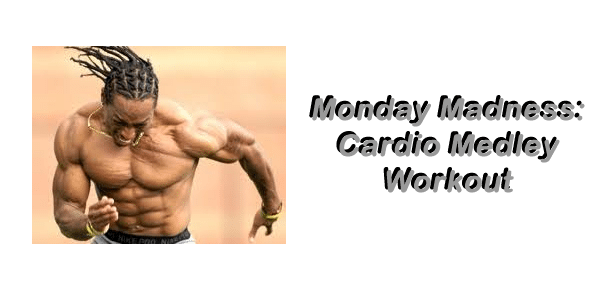 In today's fitness community High Intensity Interval Training (HIIT) is a popular methodology. I recently tried a cardio medley workout that works off the HIIT principle, but uses multiple machines to accomplish the task at hand.
HIIT Explained
HIIT involves doing different intervals at varying intensity. The idea is that you push the body hard in intervals and then you allow it to rest in intervals. It keeps the body guessing to the point that the body continues to burn calories even after the exercise period is over. Some say this is the most effective method for performing cardio exercise. I would tend to agree with some warnings.
HIIT Warnings
HIIT takes its toll on your body just like intense weight training does. I would not do it more than 3 times a week for 30 minutes a session. Your body will need some recovery time when doing HIIT cardio, so give it to it. Don't over do it or you run the risk of injury and that will just stall your progress completely.
Cardio Medley Workout
This workout involves 3 machines and varying intervals. There are three time limits on these intervals and you just work through the various machines in a rotation. Pay attention to the interval time and the order of the machines. This one has 3 intervals set as easy, medium and hard. There is also a warm up and a cool down.
| | | |
| --- | --- | --- |
| Exercise | Time | Level of Intensity |
| Treadmill | 2 minutes | Warm-up |
| Elliptical | 4 minutes | Medium |
| Bike | 1 minute | High |
| Elliptical | 2 minutes | Low |
| Bike | 4 minutes | Medium |
| Treadmill | 1 minute | High |
|  Bike | 2 minutes | Low |
|  Treadmill | 4 minutes | Medium |
|  Elliptical | 1 minute | High |
|  Bike | 2 minutes | Cool down |
The total time is 23 minutes, but there are 4 minutes that involve warm up and cool down. The actual work time is 19 minutes. By doing this you reduce the boredom associated with cardio training and you get a build in HIIT workout at the same time.
I would do this about once a week or once every two weeks at most. Admittedly it won't work well in a crowded gym, but I do this early on a weekend morning and it works out just fine.
I hope you enjoy this crazy Monday Madness workout!
Related Posts: