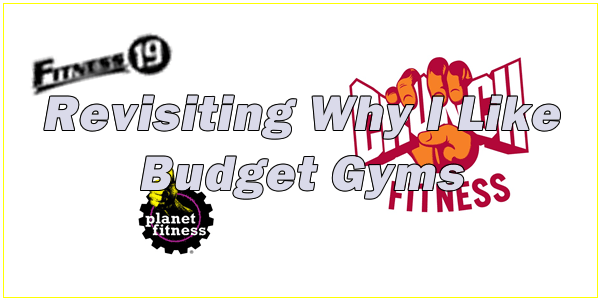 Not that long ago I shared a rante on why I like budget gyms. I am revisiting those comments because I have slightly changed my opinion and wanted to share it here. Some people will not believe the things I am about to share, but I promise you they are completely true.
The Pro's of Budget Gyms
Today everything is so expensive and that includes gyms. To me this is the main reason to consider a budget gym. While price generally tells us the quality of what we are buying, that isn't always the case with gyms.
You can save a substantial amount of money by joining a budget gym.  I was paying $38.50 a month at a huge commercial gym, 24 Hour Fitness, and found that the equipment was constantly broken and yet my membership fees kept rising. When I had the chance to join Fitness 19 I took a careful look at what they offered. To me, the equipment offering was almost exactly what was offered at 24 Hour Fitness, but I was able to get an all club membership at Fitness 19 for just $12 a month.
The Con's of Budget Gyms
This is where you have to be very careful–your examination of the con's of budget gyms. Most people who lift know that Planet Fitness has a lunk meter that they set off when someone grunts, but I recently discovered that Chuze Fitness, a California and Arizona based gym chain, has a similar rule. I was on a tour of a Chuze location just yesterday and there was a sign on the wall that said:
If you are grunting you had better be giving birth!
I was simply amazed. At the same time, it didn't surprise me at all because with the available equipment, it wouldn't be necessary to grunt. They had no barbells in the entire place and the dumbbells went up to 70 lbs. and no higher.
Planet Fitness actually gives pizza out to members.
These two budget gyms, Planet Fitness and Chuze Fitness, both claim they do this to make the "normal person" more comfortable. I say that is a bunch of bull crap. They do it to be different. Beware of these things before you join.
On a side note, the Chuze Fitness I toured was the cleanest gym I have ever been in.
Related Posts: