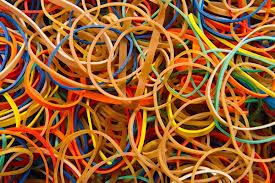 One of the hardest parts about planning your training is remaining flexible. We get an idea in our head for how things will work and sometimes they look perfect on paper but when executed they don't work very well. This is when we need to be flexible about how we handle ourselves and our plan. We must be ready to make changes, but not too quickly. Changes can sabatoge an OK plan but failure to change will destroy an already bad plan. 
Plan for Flexibility
One way is to plan certain places in your program where changes can be applied. Break an 8 week plan into weekly or slightly longer time periods. This will enable you to enact  changes as soon as you reach the end of a planned portion of your program. With natural breaks in your plan it makes it easier to throw up the flag and make the changes necessary.
Don't Be Too Rigid
We tend to think of things in terms of the calendar. The biggest learning I've had in the past year is not to do that with a training split. You train when the body is ready. Depending upon your goals, a split might not fit into a nice neat week or month. I would like to give you an example from my own planning.
My goal is to increase the size of my arms and my chest (my two weakest body parts by far). In order to do this I need to fit in multiple extra workouts for these body parts. My plan took a lot of work, but I have come up with a 6 day rotation that will do what I need it to do:
 
Day 1
Day 2
Day 3
Day 4
Day 5
Day 6
AM
Cardio
Chest
Cardio
Cardio
Shoulders
Cardio/Biceps
PM
Back (t)
Biceps (p)
Shoulders
Biceps(h)
Triceps(h)
Back(w)
Calves
Chest
Triceps (p)
Hams
Quads
This schedule allows me to hit my biceps 3 times, my triceps 3 times and my chest twice. It also spaces things out enough that I am able to get recovery time. As my trainer, Ken Turchek, continually tells me "I don't care about rest! Just eat!" so that is what I do–I eat.
This plan was accomplished by hitting the gym twice a day, but what if I could not do that? Here is another cycle that would accomplish the same thing:
 
Day 1
Day 2
Day 3
Day 4
Day 5
Day 6
Day 7
Day 8
Day 9
AM
Cardio
 
Cardio
 
Cardio
 
Cardio
 
Cardio 
PM

Back(t)
Biceps(p)

Chest
Sholders
Biceps
Triceps
Back
Calves
Shoulders
Chest
Triceps
Biceps
Quads
Hams
This accomplishes the same thing as the top plan, but takes 3 days longer to do so. The key here is flexibility. Don't be so rigid with your schedule that you think you have no way to accomplish your goal. I would use the second plan if I was not able to hit the gym for 2 workouts a day. It is all about time and effort.
Consider Your Progress
I am a big believer in tracking your progress. I know many bodybuilders will laugh at me for keeping a log, but I am scientific with my approach and believe in seeing the progression visually. It is just essential for me personally. 
When you log your training you will start to see things jump out at you. This is when you need to think about your progress. Are you getting stronger? Is your body composition changing? If not, it is time to make a change. If things are changing, but at a slower pace, it is time to make a change. You have to consider this and be flexible as well.
Flexibility Leads to Success
By taking the time to consider your situation and being flexible enough to make the changes necessary, you are going to see major benefits from the approach. Get ready for major changes in your body. If you have any suggestions or comments about flexibility, please leave them in the comments area of this article.
Related Posts: