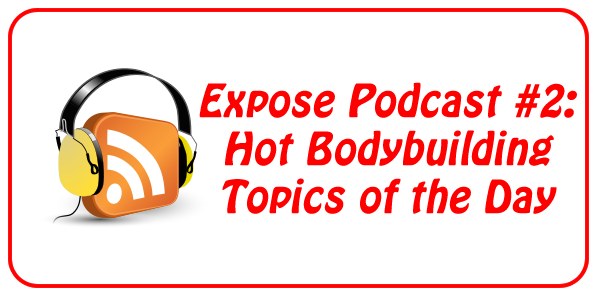 Listen to the podcast below
Hi and welcome to Episode 2 of the Expose Podcast. I am Michael Mahony and I will be your host today as we discuss some of the hot bodybuilding topics of the day.
The NPC Nationals were held on November 21 and 22 in Miami, Florida. While there was some debate about the strength of the field, it was rather exciting in the end. There were 62 men and women who earned their IFBB pro cards at this event.
The overall winner of the men's bodybuilding section was Alexis Rivera-Roton. He looked amazing. Awesome symmetry in his physique.
Logan Franklin was the overall winner of the men's physique division.
Samantha Smitchko was the overall winner of the women's figure division.
The overall winner in the bikini division was Laurin Conlin. While to me she looks a little too muscular for bikini and would be better suited to figure, she brought a complete package to the stage to pick up the win.
Marcie Simmons was the overall winner in women's physique.
Susan Marie Smith picked up the overall win in women's bodybuilding.
The NPC Nationals was very well attended.
The following weekend was the Amateur Olympia and Bikini Pro in Moscow.
The reigning Olympia Bikini Champion, Ashley Kaltwasser took the bikini division.
In the men's bodybuilding, Abdelaziz Jellali won the overall title.
Now I would like to discuss something that I think all of you can help with. We need more coverage of bodybuilding events. I know that mainstream television won't pick these contests up, but ESPN would be one place where this would work. I suggest we all write in and ask them to begin covering at least the finals of these events. This is the only way the sport as a whole is going to be popular.
Thanks for listening to the podcast. I will look forward to coming at you again next time!
Related Posts: