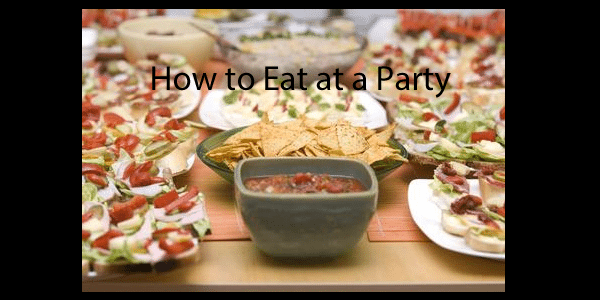 Everyone I know who is trying to eat healthy dreads going to parties. I believe that it is possible to go to a party, have a great time and still stick to your program. It will take will power and some advanced planning, but you can and should do it. There is no reason to avoid parties just because you are preparing for a contest. Here are 5 ways to eat right at a party.
Bring along a bottle of water and drink it instead of the sugary drinks they offer you. Water will fill you up and keep you hydrated. Make sure to drink water even if you are drinking alcohol.
Look for the cut up vegetables and eat those. Vegetables will help fill you up and you will avoid eating as much junk food.
If you are going to eat chips, grab a plate, put some on the plate and limit yourself to that serving. By allowing yourself to indulge in some "bad food" you won't be as tempated to binge. Just maintain control by controlling your portion sizes.
Make sure to eat a lot of protein items while at the party. Most parties will have a mixture of carbs and protein as the items you can eat from. Try to fill yourself up with protein. Even protein that isn't quite as lean is better for you than cakes and chips.
Do not let peer pressure take you off your plan. This is perhaps the most important tip I can give you. Don't let your peers convince you that it is OK to eat whatever you want.
By following these tips you will be able to stick to your program and you will feel better about yourself later.
Related Posts: