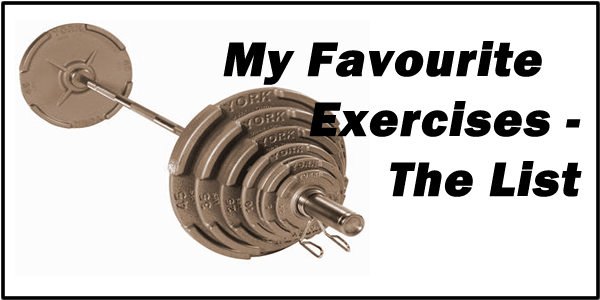 I was thinking about the type of information I provide and realized that a lot of it is theoretical. I wanted to give you some insight into my own training techniques. Going forward I will be writing an article a week about my personal approach to training. I want you to get a feel for who I am and what I am doing. Today I am going to start the trend by discussing a list of my favourite exercises for each body part.
| | |
| --- | --- |
| Body Part | Favourite Exercise |
| Biceps | Barbell Curl |
| Shoulders | Arnold Press |
| Triceps | Rope Pushdown |
| Back | Deadlifts |
| Legs | Squats |
| Chest | Pec Dec Flyes |
| Hamstrings | Stiff Leg Deadlifts |
My Explanation
Biceps Curl. I love this exercise because I can change the width of my grip and hit the biceps in a different way (see my article 5 Ways to Build Better Biceps)
Arnold Press. This exercise can be done on a bench or standing with your back pushed against the wall. When done correctly it gives your shoulders a major burn.
Rope Pushdown. This one is never done correctly by anyone I've seen do it at the gym. I love this because I have a constant burn in my triceps while executing this.
Deadlifts. This is my favourite exercise of all of them. It hits multiple muscle groups. It makes you feel like superman!
Squats. Again, another exercise that increases hGH and hits your body hard.
Stiff Leg Deadlifts. This hinge movement is very tough to execute. I love the stretch I get in my hamstrings while doing this lift.
What are your favourite exercises? Let me know in the comments below.
Related Posts: