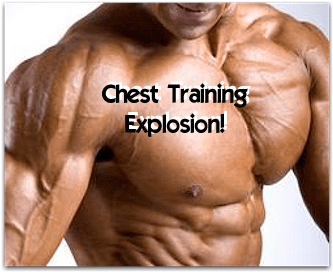 My chest is an area that is lagging for me. As a result, I have come up with the chest training explosion workout to help grow some serious muscle. I have managed to tighten up the chest area and get some definition and now I am working on mass.
Supplemental and Main Workouts
I have had to split my chest training into two workouts — a supplemental chest workout and then a chest training (where I also train my triceps during the same workout). I do this because I need extra attention to my chest.
The Technique Used
I focus on an intense squeeze during every exercise. After reading an interview with Mr. Olympia, Phil Heath, I utilize Hammer Strength machines a lot during my chest training. I can do single arm lifts with these machines where I pause at the top to really squeeze the muscle. I can also do two arm lifts and get a great squeeze on the muscle as well. The Hammer Strength machines let me work my chest hard without a spotter.
The Main Chest Workout
| | | |
| --- | --- | --- |
| Exercise | Repetitions | Sets |
| Decline Bench Press | 8 to 10 | 4 |
| Flat DB Flyes | 10 to 12 | 4 |
| Flat Bench Press | 8 to 10 | 4 |
| Hammer Strength Iso Lateral | 12 to 15 | 4 |
| Cable Cross Over | 10 to 12 | 4 |
The workout starts with 4 sets of Decline Bench Press. Dorian Yates always began his chest workouts with the Decline Bench Press. It really tears up the chest muscles when done correctly. I start with a lighter weight and increase to a very heavy weight over the 4 sets. As the bar reaches the top of the motion I squeeze my pecs towards the middle. I exaggerate the movement by acting as though I am going to push my hands together but let the friction of the bar keep my hands in position.
I move on to the Flat DB flye for 4 sets. I keep my elbows bent. I use a medium weight. I focus on controlling the weight in both directions. I squeeze hard throughout the motion.
After the Flat DB Flye I do a Flat Bench Press. I change between the barbell and the dumbbell each session. I lift heavy enough on this. I focus on a good squeeze and control on the way down, explosive on the way up.
Moving on to the Hammer Strength machine and using both arms at the same time. I squeeze hard at the top and use a 3 second descent for the weight.
I finish up with the Cable Cross Over. I do it like a Most Muscular pose.
The Supplemental Workout
| | | |
| --- | --- | --- |
| Exercise | Repetitions | Sets |
| Hammer Strength (1 Arm) | 12 to 15 | 4 |
| DB Press (Arms Together) | 12 to 15 | 4 |
| DB Bench Press | 5 to 8 | 2 |
| Pec Dec Flyes | 12 to 15 | 4 |
| Push ups (feet elevated) | 15 | 2 |
I use the supplemental workout one morning during the week. I start out doing the Hammer Strength machine one arm at a time. I get a massive squeeze at the top by holding for 2 full seconds. I move on to the DB Press but do it in a special manner. I put the two dumbbells in a position where they are touching each other. I focus on keeping them touching as I press them upward together. I then move on to 2 sets of Dumbbell Bench Press. I go very heavy on this, doing just 5 to 8 repetitions. I then do Pec Dec Flyes for 4 sets. I get a massive squeeze in the front. I focus on keeping my elbows perpendicular to the floor. I finish off with two sets of push ups with my feet elevated.
The Goal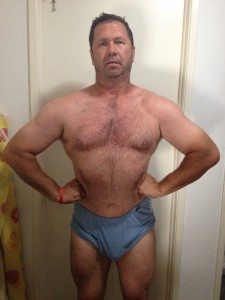 By hitting the chest muscles twice a week but with two different approaches I am gaining mass and tightening my chest muscles. While I have a LONG way to go as far as the mass goes, that is coming along. I have managed to get definition in my chest and have lost much of the fat I tend to carry there.
By working the muscles very hard I have managed to tighten things up nicely. I am proud of the results I have been getting. I now have plans in place to build mass that involves eating well and training even harder than before. I feel if I could tighten up like I did I can certainly grow by working harder.
I can tell you that this approach is working for me and will work for you as well if you give it your all. Nobody said bodybuilding was easy. That's a big part of the fun for me–having to work very hard.
Please note that you may not want to use the supplemental workout if you don't feel you are recovering well. Recovery is important. You have to get full recovery in order to grow. Pay attention to what your body is telling you and then train accordingly.
Conclusion
I am hoping you will try out my Chest training explosion workout and give me some feedback. If you try it, please leave a comment and let me know how it goes.
Related Posts: