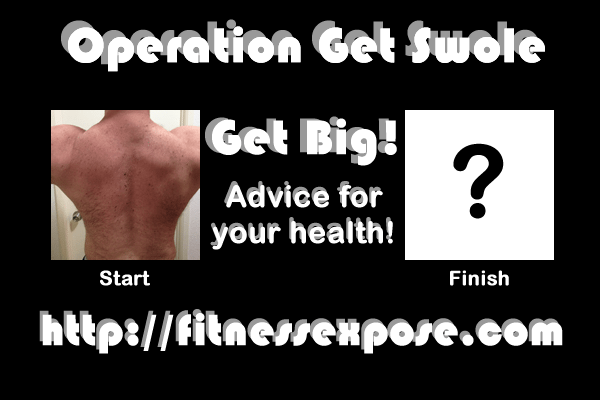 The Operation Get Swole update this week is not exactly what I would like to bring, but it is what it is and perhaps it will be educational. I have been having incredibly intense workouts with Ken Waters, my new training partner. He and I compliment each other's style and we push each other hard. Every training session has counted. We have left it all on the gym floor. It is an amazing feeling.
Training
I have adjusted my training split to give body parts more rest time between training and still allow me to double and triple up on a given body part. I use a smaller workout in the morning as a supplemental workout aimed at improving those lagging body parts. I feel like it is doing the job. I know my biceps are harder and tighter. My chest is pumped and starting to look better. I am now going to focus more on shorter rest periods to add a cardio effect to my training.
Ken and I had an incredible back workout twice this week. We shortened the rest period to next to nothing and just pumped out the sets. We were both dripping in sweat when we were done. It felt so incredible to drip from a weight training workout. We have also improved the strength of our core by working it at every workout. We started with 2 sets per exercise and just increased it to 3 sets per exercise. Core has never been a great strength of mine, so I am excited to see the changes.
Potential Injury?
What I hate reporting is that I think I have an injury to my right hand/wrist. I noticed that my thumb and index finger on my right hand felt a little numb towards the tip. As a result I postponed chest training for one day. As the day wore on I found that my middle and ring finger started to feel the same way, so I postponed my chest training yet again. I am going to be icing the hand on a regular basis and a regular, but intense therapy of Ibuprofen. I will watch and see how my hand feels and make a decision about training. However, if the weight training has to stop for a bit I am going to add a 5th day of cardio to keep myself active and burning calories.
Lessons Learned
If you want to get to the next level you have to push yourself very hard. It isn't enough to just cruise. Don't leave anything on the gym floor. Focus on the situation at hand. Rely on your training partner to push you and you to push him/her. At the same time you have to listen to your body. If you feel something abnormal take action before it gets worse. Don't just ignore it and hope it will get better. Remember that you are putting a huge amount of stress on your body, so if something feels wrong it is just going to get worse instead of better if you continue to push forward.
Be consistent with your supplementation. Get into a routine and follow it. These things don't work if you are not consistent. 
Be consistent with your training and take it to a new level at every single workout. Get a training partner who will push you and who can move a similar load as you. 
These variables, when put together in a consistent manner, will produce some amazing results. Watch me do that very thing throughout Operation Get Swole.
Related Posts: