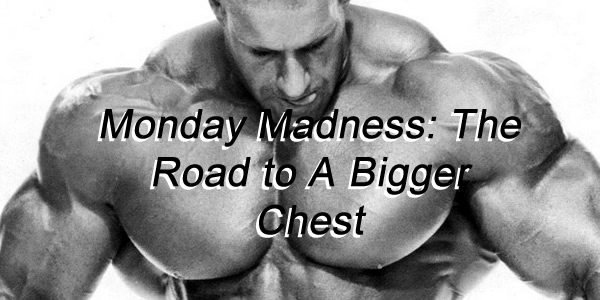 My chest is probably my weakest body part and the one area I am extremely focused these days. That is why I wanted to share with you my crazy chest workout. It is designed to get some fast growth.
The Workout
| | |
| --- | --- |
| Exercise | Sets and Reps |
| Decline BB Bench Press | 3 x 15 |
| Flat DB Bench Press | 4 x 8-10 |
| Incline DB Flye | 4 x 10-12 |
| DB Pullover | 3 x 15 |
| Pec Dec | 4 x 12-15 |
| Incline DB Bench Press | 3 x 6-8 |
| Push ups | 25 |
The Workout Explained
I have consistently been starting my chest days with the decline BB bench press. I have heard that people with very large chests have done this to get blood flowing into the area. It really does pump up the workout.  All other exercises are just designed to push blood into the muscle…get a pump if you will. I try to hit the chest from all the various angles and with varying amounts of weight. It ends with push ups (which tend to be very difficult) just to get some stamina in the muscles.
Consistently Doing Work
I would recommend using this training for 4 straight chest days and then switching it up. Keep this one on the shelf and have it back in your rotation after another 3 months. Consistently doing work like this is going to build a bigger chest in no time.
Related Posts: